Boston Showroom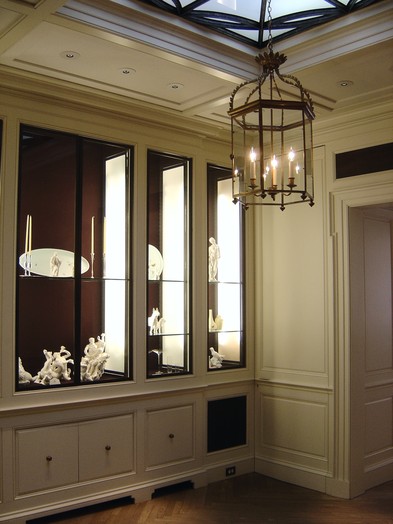 In 2000, E.R. Butler & Co. established a retail showroom located at 38 Charles Street in the historic Beacon Hill area of downtown Boston to commemorate its acquisition of the W.C. Vaughan Co. Since 1990, the two firms had often collaborated in both the manufacture and research of the designs, materials and methods of production and patination used by L.S. Hall, Enoch Robinson & Co., William Hall Co. and John Tein Co. Firmly established in Boston since 1902, the W.C. Vaughan Co. manufactured the finest architectural and builders' hardware with absolute historical accuracy. Recognized for its expertise, W.C. Vaughan Co. supplied hardware for the restorations of Colonial Williamsburg and of the Hermitage, home of President Andrew Jackson near Nashville, Tennessee, among other projects.
The showroom, designed by Gil Schafer, represents the collaborative efforts of these firms, with a strong emphasis on the historical aspirations and integrity they represent. The design legacy this merger represents is unparalleled in the industry, and is, taken together, the oldest, contiguous lineage of hardware manufacturing in the United States of America.
In addition to the historical collections of original hardware designs, the showroom in Boston represents those firms and individuals we have become associated with since our collaboration with new designers as early as 2002, with the introduction of designs from the jewelry designer, Ted Muehling.
"Long the trade secret of architects and decorators, hardware purveyor extraordinaire E. R. Butler & Co. opened its first retail store last December on Charles Street. The shop is an inspired concept, mixing the elegant contemporary porcelain of Ted Muehling and jewelry of Gabriella Kiss with artful antique, reproduction, and new hardware displayed like jewels for the home. A standout: reproductions of Enoch Robinson's classic 19th-century mercury-glass doorknobs. Showcased in drawer after drawer, each hinge, pull, and lock perfectly illustrates how God is in the details."
– Departures Magazine, September 2002