Egg Cabinet Knobs and Roses
Ted Muehling Collection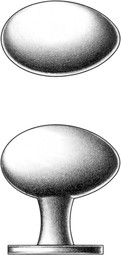 Porcelain Handmade in White, Ivory, or Celedon at Porzellan-Manufaktur Nymphenburg.
Available in 1 1⁄2 × 1 inch Dimensions for Cabinets and Fine Furniture.
Regularly Furnished with No. 8—32 × 1 3⁄4″ T H M S .
Solid Turned Brass Post and Rose.
Available in Oxidized Bronze, Satin Nickel, and Pumiced Gold.
Custom Plated and Patinated Finishes Available by Special Order.
Downloads