The Decorative Hardware of Enoch Robinson
by Preuit Hirsch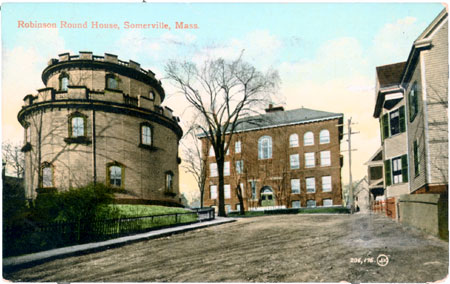 "Boston dealers consider that the best locks in the country are the hand-made goods turned out by such firms as Enoch Robinson's," wrote Clarence Howard Blackall (1857-1941), the founder and first president of the Boston Architectural Club.  1  However, Enoch Robinson (1801-1888) of Boston influenced building, construction, and hardware throughout the United States. His influence changed the decorative hardware industry, and examples of his originality remain today. Blackall's book Builder's Hardware of 1890 was written from an architect's point of view to educate other architects about this important subject. He advocated selecting hardware carefully not only to determine the best made and most reliable but also the most aesthetically appropriate. He explained that
"no one of the art industries is capable of so wide an aesthetic expansion or presents so varied a field for the play of individual fancy, and few have been so persistently misapplied and misunderstood."  2 
Blackall was not the only authority of the time who had high praise for Robinson's hardware. Charles S. Damrell in A Half Century of Boston's Building, published in 1895, wrote that Robinson's was the oldest business of its kind in Boston and that
"The products of this concern are in demand all over the business having been so long established and the reputation which it enjoys among the trade giving it a name, which, is known all over the world, wherever the goods it handles are used."  3 
According to Damrell, Robinson supplied hardware in Boston for the Old City Hall, the Old State House, and three elegant hotels: the Parker House, Young's Hotel, and Adams House. The Parker House (now the Omni Parker House) is one of the oldest continuously operating hotels in the country. Its meeting- and banquet-room doors still have locks, knobs, and bolts made by Robinson.
In Washington, D.C., some of Robinson's fixtures still operate doors in the United States Treasury Building. They were ordered at various times between 1861 and 1864 for the addition to the west wing of the building. The four existing receipts refer to two other orders for hardware for the building.  4  According to these orders, Robinson supplied fifty mortise locks, thirty-six pairs of octagonal glass knobs, twelve plain knob sets, twenty-six argil knobs, and forty-eight escutcheons.
American glass collectors are familiar with Robinson's patented glass-pressing machine and his participation in the patent infringement claim filed by the New England Glass Company of East Cambridge, Massachusetts, in 1829 against the Union Glass Company of Kensington, near Philadelphia.  5  Robinson's architectural and cabinet hardware also merits serious consideration for innovative mechanisms, artistic strength, and high quality.
Many members of Robinson's family worked in the metal and glass industries. His cousin Obed Robinson (b. 1762) of Attleboro, Massachusetts, began as a blacksmith and made gunlocks for the Continental Army during the Revolutionary War. Later he made clocks, jewelry, and buttons. Richard Robinson (d. 1837) and Willard Robinson (1799-1879), also cousins of Enoch, made glass and gilt buttons and built a two-story brick factory, a shop, and a rolling mill in Attleboro. They employed one hundred workers who lived around the factory in a section of town that became known as Robinsonville. In the spirit of the time they boasted about the superiority of their buttons to those made by domestic and foreign competitors.  6 
Enoch Robinson's brothers George W. (b. 1795) and Ezra (1811-1899) ran a locksmith and brass foundry business in Boston from 1832 to 1873 and also obtained patents for innovations.  7  Four of Enoch Robinson's sons, Shepard (b. 1832), Albert M. (1841-1905), Charles (1835-1919), and Frank (1837-1899), and his nephew William (c. 1839-1900) carried on his business after his death in 1888.
Before opening his own business Enoch Robinson worked at the New England Glass Company, where he and Henry Whitney (1786-1859) patented what was possibly the first glass-pressing machine. According to Joseph N. Howe, an agent for the company, Robinson attempted new methods of pressing glass "against the ridicule of the craft, [and] succeeded in moulding a salt stand and various articles for table use."  8