History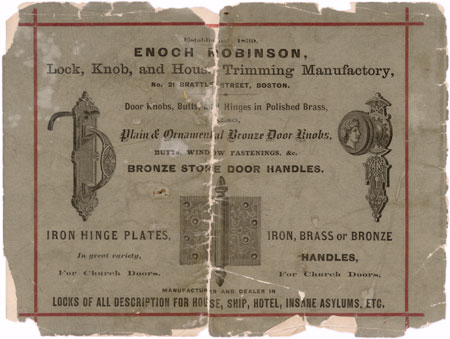 In name, E.R. Butler & Co. came into existence in 1990 but its foundation was built long before, during a period when the business of manufacturing and supplying builders' hardware had a distinctly different character. During the 19th Century the American hardware industry came of age. Like so many other industries, its nature began to change as a direct result of technical advancements made possible by the industrial revolution. What was once an industry characterized by painstaking custom production using old world hand methods became one characterized by a restless search for new techniques of mass production and machine manufacture.
This shift opened the field to a new breed of individual: one whose sense of aesthetics was coupled with a talent for invention and innovation. Enoch Robinson was one of these men. He entered the field in the 1820s and over the next six decades became one of the most well-known and respected hardware manufacturers in the country. In 1895, Charles Stanhope Damrell's A Half Century of Boston's Building described Robinson's line as being "in demand all over the country, the business having been so long established and the reputation which it enjoys among the trade giving it a name, which is known all over the world, wherever the goods it handles are used."
In addition to carrying a first-class decorative hardware line, Robinson invented several processes that advanced not only the quality of hardware, but the nature of its manufacture. He got his start at the New England Glass Company and immediately demonstrated a penchant for groundbreaking experimentation and invention that would come to characterize his life's work. There, with Henry Whitney, he developed and patented what may have been the world's first glass pressing machine.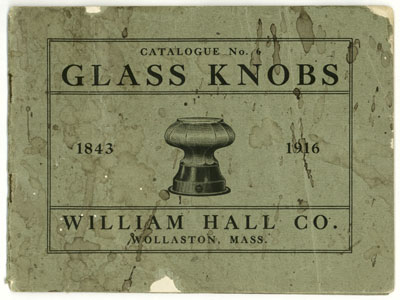 By 1840, Robinson was an established dealer in hardware with a shop in Dock Square, Boston. His inventions and patents continued to accrue. Most dealt with the technical exigencies of hardware manufacturing, such as more reliable methods for securing a crystal knob to its base, along with other novel designs for window and door latches. Other designs came about seemingly for the sake of invention itself, like one for a windlass and attempts at perfecting a perpetual motion machine. Even Robinson's home, the famous Round House in Somerville, Massachusetts, is, like his hardware, a study in architectural innovation. Its hardware and French-American dÈcor are, of course, Robinson's design, but even its unique rounded, stacked-plank construction may have been achieved using machines that he himself designed.
Over the course of his career Enoch Robinson collaborated with many other men to produce new and better products for the hardware industry. His first associations were with his brothers and cousins, many of whom were also involved in the early American metal and glass trades. His cousin Obed was a blacksmith. Cousins Richard and William manufactured glass and gilt buttons. His brothers George and Ezra maintained their own hardware shop in Boston and Enoch worked along side them before going out on his own.
In 1837, with his brother George, Enoch took out a patent on a method for attaching crystal knobs to their metal bases. The process, which involved connecting the knob to its base with molten metal, was an improvement on an earlier one that attached the knob with a ferrule screw. Both of these designs proved flawed, so Robinson refined them until he came up with the method still in use today and showcased in E.R. Butler's crystal knob collection.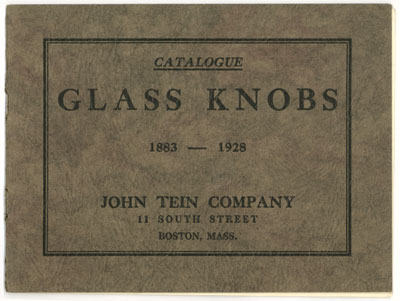 Later, working with William Hall, Robinson patented a new lock latch and a novel window fastener. Upon Robinson's death in 1888, his patents, machinery, and design templates became the property of L.S. Hall, a former Robinson clerk and draftsmen. In the early 20th Century, L.S. Hall's assets were bought by W.C. Vaughan Company, already the owner of the decorative patterns for several other reputable 19th Century hardware designers, namely the aforementioned William Hall Co. (est. 1843) and John Tein Co. (est. 1883).
Since its acquisition of the W.C. Vaughan Company in 2000, E.R. Butler & Co. embodies a vast array of America's early traditional hardware designs and manufacturing processes. We continue to manufacture and supply the designs of Robinson, Hall, and Tein and are continually inspired by the tradition of quality and innovation that made these men the most respected manufacturers of hardware in their day.