Traditional GK Series Pressed and Hand Ground
Crystal Door Knobs and Escutcheons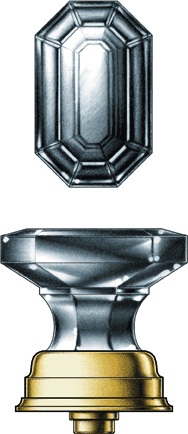 Available in Clear, Etched, Black, and White Crystal. Also Available in Custom Colors by Special Order.
Available in 2½ × 1⅝ inch or 2 × 1¼ inch Dimensions for Doors.
Also Available in 1½ × 3/4 inch Dimensions for Cabinets and Fine Furniture.
Solid Turned Brass Shank and Rose.
Standard, Custom Plated and Patinated Finishes Available.
Downloads